How to create a Dropbox account
Dropbox is a central, organized repository for all your files. With features like Dropbox Spaces, folder suggestions and calendar integration, Dropbox helps you focus on your work.
Setting up a new Dropbox account
1. Go to Dropbox.com and click on "Sign up"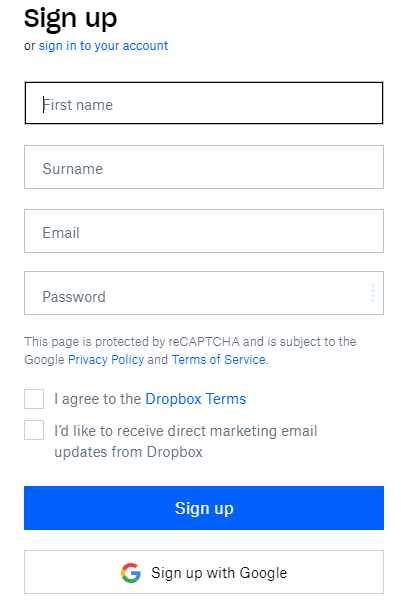 2. Enter all required information
Enter your name and email address. The email address is also the username for your Dropbox account
Enter a password
Check the box to accept the Dropbox Terms and Conditions
Click "Sign up" to create your new account
Alternatively you can sign up with your Google account. Just click on "Sign up with Google".
Dropbox on your PC, tablet or smartphone
You can access your Dropbox files via dropbox.com or the Dropbox app. Install the Dropbox app on your computer, smartphone, or tablet so you can access your files from all your devices.
Install Dropbox on your PC
Download the Dropbox Desktop app (Dropbox app for PC) to your computer
Run the installation program
Log in or create a Dropbox account. You only need one account, no matter how many devices you want to synchronize
Install Dropbox on your Smartphone or tablet
Download the Dropbox app from the Google Play Store or App Store (Android or iOS) to your smartphone or tablet
Start the installation
Open the App
Log in or create a Dropbox account. You only need one account, no matter how many devices you want to synchronize
For help or further information, please visit the support center of Dropbox